So over 24 hours since the polls closed in the UK - I'll update you on what has happened since.
Prime Minister David Cameron has resigned (

) saying he doesn't want to lead the ship on the next stage, he will be replaced in October - most likely to be Boris Johnson, former Mayor of London and major figurehead of the Leave campaign.
Nigel Farage, the person responsible for this whole referendum confirmed that the suggested £350 million will not be spent on the NHS like the Leave campaign bus said. He was also criticised for saying that the UK got its independence without 'firing a bullet' - a week after Remain supporter and Labour MP Jo Cox was shot because of her stance on the EU.
Nicola Sturgeon said legislation is getting put in place right now for a second referendum on Scottish independence. She says that there is a mandate for it as the terms in which the Scottish people voted No in the 2014 referendum had been breached (UK's membership of EU) and that as Scotland voted in every area to Remain in the EU.
Supporters of Remain but opposition to Sturgeon's SNP at the Scottish Parliament, Conservative's Ruth Davidson and Labour's Kezia Dugdale issued separate statements about continuing to support the United Kingdom and not independence. The Scottish Green Party continue to support Scotland in Europe and may have to ally with the SNP to get a referendum bill through the Scottish Parliament.
However, there has been a major shift it seems in support for independence for Scotland with lots of previous No voters changing to Yes. Also, not just here but across the UK with many Remain supporters in England and Wales wishing us well and some have suggested even moving here should we gain access to the European Union. I actually can't put forward how much Scottish independence has increased in support today from all of the UK - perhaps just a reaction fresh from the result.
Also spoken about is Irish reunification. Northern Ireland also voted Remain by a slight majority which has brought the topic of joining with the Republic of Ireland to become one country. BBC News reported that queues for Irish passports in Northern Ireland have increased with even Unionist areas reporting increases in Irish Passport requests.
EDIT
Just saw there that The Daily Record newspaper (2nd biggest in Scotland after The Scottish Sun) had this as their front page tomorrow. Very big as they were big anti-independence supporters in 2014. The Scottish Sun was neutral but leaning towards Yes in 2014.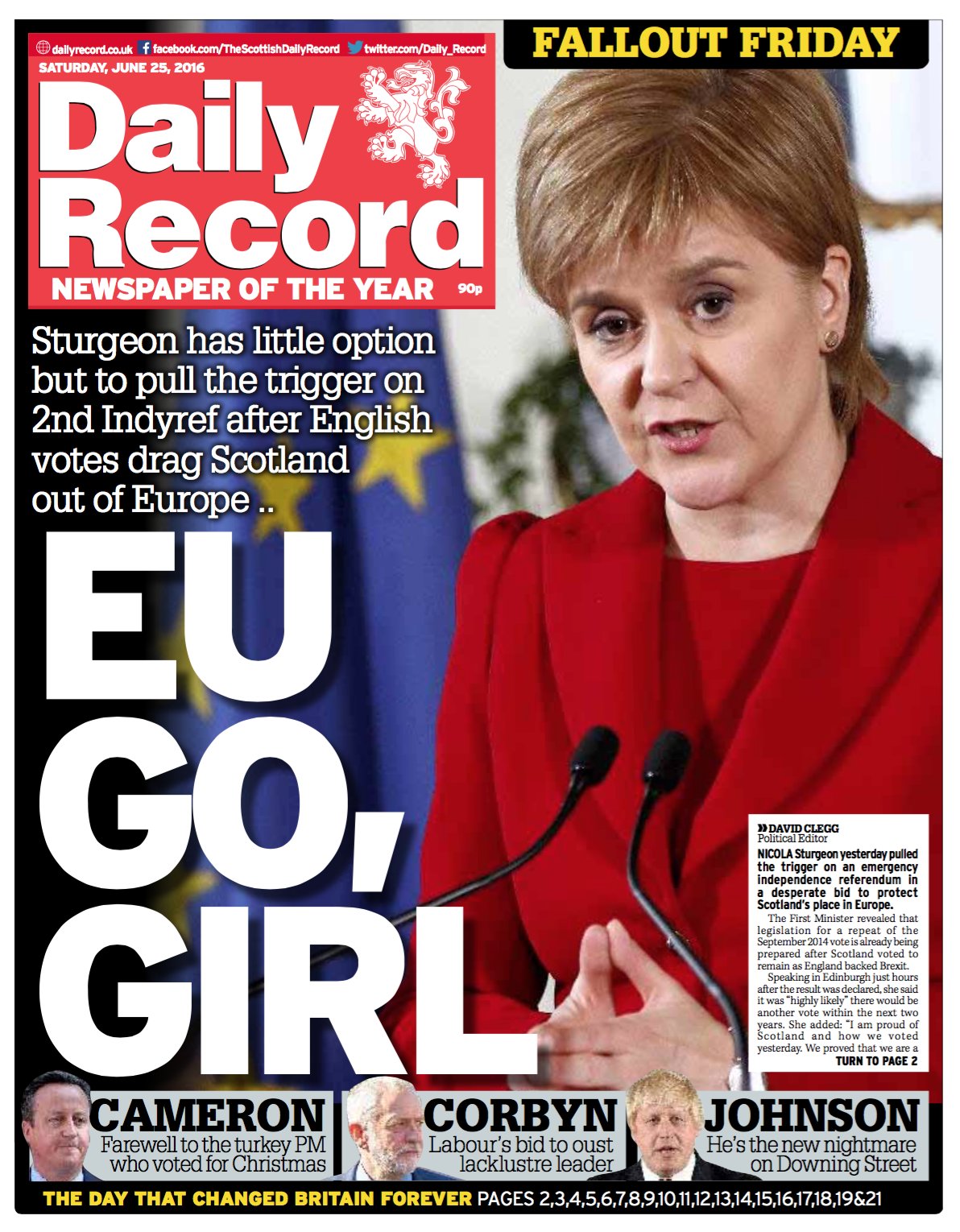 Dernière modification par Glasgow_Celtic (25-06-2016 00:01:38)
---

For Rennes news in English: @WeAreRennes